Welcome to my review of a great panel with six wavelengths, an app, remotes, stands, a great size, and an insane amount of power... Is this the best mid-sized light therapy panel on the market?
Yes, I did say an insane amount of power! In fact, it's actually a record amount of power. You're going to want to hang around to the end of this video because the numbers that this panel is emitting is ridiculous. It's insane!
Right here, I have the PlatinumLED BioMAX 300. I also did a video review on YouTube: " PlatinumLED BioMAX 300 Review: 6 Wavelengths & More!"
If you've read my reviews before, you know I have affiliate links with almost all of the top companies specializing in red light therapy products. I have used my affiliate links in this article for your convenience.


PlatinumLED BioMAX 300 Panel Third Generation Full Review
This is the new and improved, generation 3, 2023 edition. At first appearance, it looks rather similar to the second generation panel. That is, until you turn it on.
No, it's not the fact that PlatinumLED now ships panels with a free rechargeable remote. It's actually these two blue LEDs. You see, this new and improved red light therapy panel not only has your typical red light and your near infrared light, it also has blue light.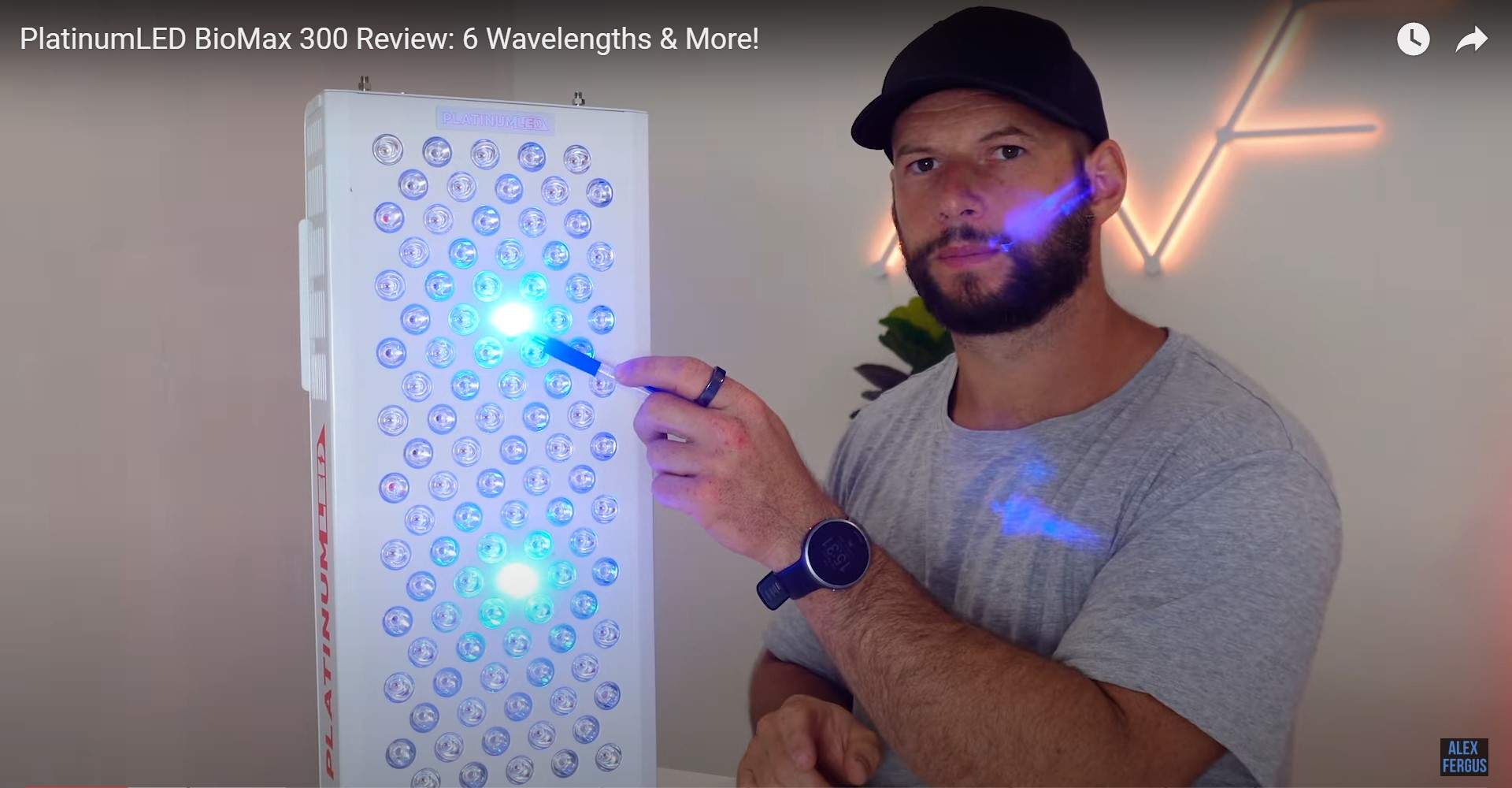 PlatinumLED has incorporated 2 LEDs of 480nm wavelength blue light into their BioMAX 300 panels.


There's only 2% of the energy going to the blue light spectrum here. Which means in this panel with 100 LEDs, there's only two blue light LEDs. But it is something that is quite unique and innovative and potentially game changing when it comes to red light therapy panels.
Anyone that's followed my work over the years will know that this company has come out with a lot of innovative features: multi-wave technology, modular capability, touch screen control panels, and now they have blue LEDs. We're going to talk more about this later.


PlatinumLED BioMAX 300 Key Features
First, let's run through the key features of this new and improved panel. The panel is produced by a company called PlatinumLED Therapy Lights. Now, I've mentioned innovation, but they have also consistently produced panels that have performed exceptionally well in my reviews and comparisons.
Not only that, they are my personal go-to panel and have helped me with an assortment of issues such as my dental health, back pain, sports recovery, sunburn, all sorts of things. Now they've upgraded their BioMAX product line.
This particular panel is the smallest in this new series weighing 11 pounds being 19 inches tall and 9 inches across. It is a little bit larger for a tabletop panel, but there are upsides to that as well.
Here's the breakdown: 78% of the power is going to 660nm and 850nm light with the remaining 20% going to 630nm, 810nm, and 850nm. It is modular capable, so you can clip more of these panels together.
PlatinumLED has 6 different wavelengths in all their 3rd generation BioMAX series panels.


The simple to use touch screen control panel remains. There is also now an app that you can also control the panel with. It comes free with this remote. The panel itself has a slightly refreshed look. There is a glowing logo at the top. Yes, you can turn that off with the touch of a button.
There's now also no wireless transmitter in the BioMAX panels. Instead, they use a Bluetooth receiver, so you can control the panels through the Bluetooth remote. It also comes with all your standard accessories and a nicely printed manual.
So now, it's time to test this panel with my spectrometer. We have a wide range of wavelengths from this panel. Remember, there are six wavelengths. We see peaks of 630nm and 660nm in the red. This is going to be good for skin rejuvenation, wound healing, and surface level benefits.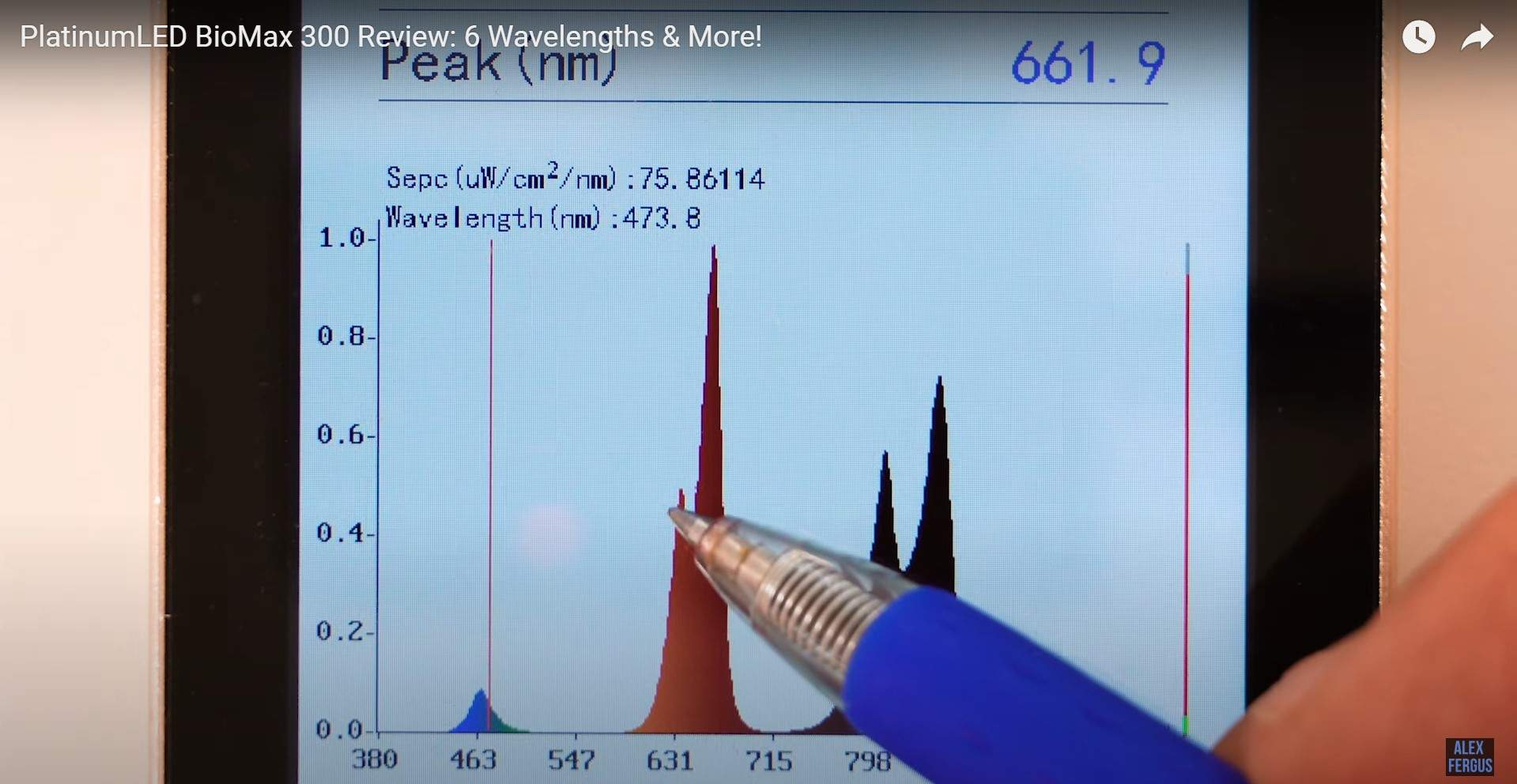 The red line at 473.8nm shows Alex's reading of the therapeutic blue light in his BioMAX 300 with his specialized spectrometer that is designed for LED products rather than a solar meter.


Then there's the 810nm, the 830nm, and the 850nm near infrared light. This is deeper penetrating light and will help with things such as: joint health, pain reduction, muscle recovery, nerve healing, and also brain health.
Then we have the blue light. Now, PlatinumLED has stated that this is emitting 480nm blue light. I found it actually has a peak of 466nm light. There's still 480nm light in the panel, but it's only about a third of the intensity as the 466nm light.
I have seen this before where there is a slight discrepancy with wavelengths. I don't know if this is because this is one of the first panels produced with blue light, or if it's something that PlatinumLED is aware of. I will be sure to reach out to them and get an update.
The good thing is though that blue light in the 460nm to 480nm range has been well researched and is beneficial for skin health and acne. For more information on blue light, you can read "Blue Light Therapy: Everything You Need to Know" which unpacks the scientific studies.
Alex demonstrating using the blue light for skin benefits with his eyes closed.


As for power, this panel here has an incredible 105 milliwatts over centimeters squared iradiance figure at six inches! Now, this is a peak reading, and it doesn't represent the total output from the panel.
Yet, I've never seen a figure above 100 milliwatts, ever. That's looking at all the larger panels, smaller panels, concentrated hand held devices, and everything. This BioMAX 300 generation three had the highest peak rating. Pretty neat!
The average reading I found testing nine different points across the panel was 70 milliwatts over centimeter squared. The total wattage output I calculated to be 47.6 Watts. These figures are extremely impressive easily making it the most powerful tabletop panel I've tested!
I spend a lot of time geeking out on red light therapy devices. I test them I quantify them. I spend thousands of dollars on these devices. I do this so you guys don't have to do it. Instead, you can just watch a video and and make an informed decision. Check out my Excel sheet for comparing data on all the red light therapy panels. You can also see a video of my testing methodology for light therapy devices.
I also tested the EMF and sound levels. There was no concern with the EMF reading. The sound came in at 39.5 decibels which makes it a relatively quiet panel. So, a new generation panel with a ton of power is going to cost a fortune, right?


BioMAX 300 Price, Discount Code, Shipping, Warranty, Return Policy, and Extras
Well the prices for the Biomax panel have gone up. But fortunately, discount code ALEX will still work on the new generation panels to save you 5%. That means, you can get this BioMAX 300 for a discounted price of $598.
Shipping is free in the USA. Expect to pay anything from $80 to $150 for international shipping. If we take all this data and look at it from a power value point of view, it works out to be $12.40 per wattage of therapeutic light.
BioMAX panels come with these complimentary remotes.


Though this is a premium and expensive mid-size panel because of the crazy high power figures we've got here, that actually makes it one of the best valued tabletop panels I've tested.


Optional Extras: Desktop Stand, Desk Mount Arm, and Touchscreen Remote
Now, this panel is currently sitting on an optional extra and that is the stand. The solid middle stand sells for $110.
I can tell you now, it is a quality stand. It ties in well with the panel because it has the same color, same design, and same branding. It has one single pivot point allowing you to adjust your positioning and treatment area. There's also an adjustable desk mount arm that sells for $149. It does provide more flexibility but doesn't have as nice of a look as the tabletop stand.
There's a three year warranty and a 60-day return period for this panel. What do I like about this panel? Well, it is a little bit larger than your standard tabletop panels. The extra height does provide a larger treatment area. You're definitely getting treatment coverage from the top of the crown to your your upper chest which is great.


6 Wavelengths With Adjustable Intensity
Having additional blue LEDs is a bonus for those who want to treat acne or have some skin issues. The good thing is you can disable the blue LEDs if you don't want the blue LEDs working. It is only two LEDs.
Sure some people may rather have an extra two red LEDs or near infrared LEDs. But remember, even without those two blue LEDs running, this panel is putting out a ton of power. It has more than any other panel in this class.
All that power is another advantage. It means you can stand further away from the panel and / or have a shorter treatment time to get the same amount of joules. I do like that it has a bundled rechargeable remote. You don't have to mess around with fancy batteries. Though it is a little bit limited. All it does is defaults to 20 minutes on at full power or turning it off. I also did a review covering additional information on BioMAX remotes.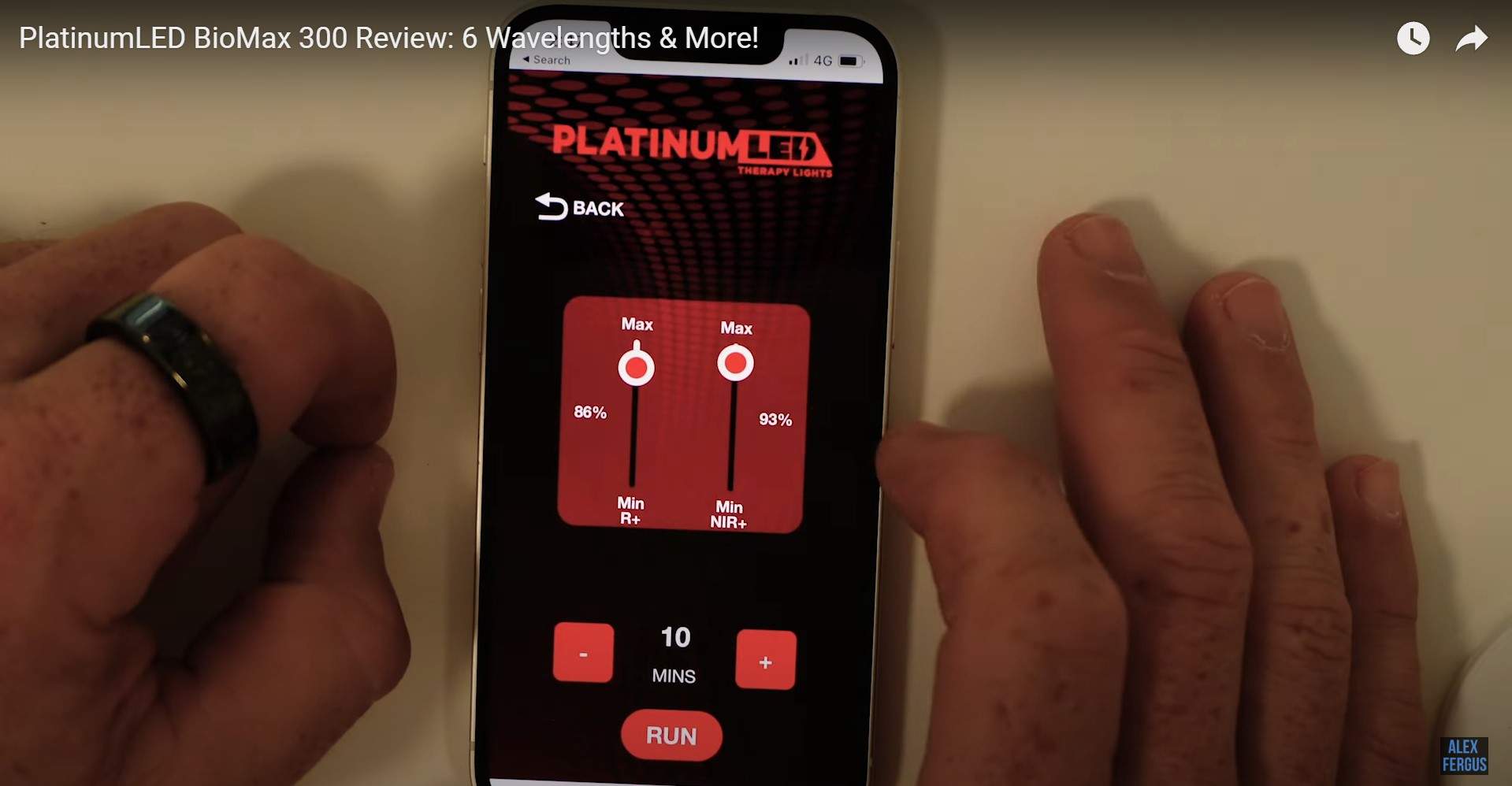 PlatinumLED created a complimentary phone app that gives the user precise control to customize their light therapy just like the high quality touch screen controls on the panels.


However, as I mentioned before, there is a free app. This app doesn't require any accounts or logging in or passwords or anything like that. You simply download it, sync it to your panel, and then you have full functionality, just like you would with the touchscreen control panel.
For those of you who are using this in a clinic or a professional setting, you can also buy an additional touch screen remote. That does again have the same functionality as the app or the control panel.
I like that there are lots of stand options. The tabletop stand here is probably going to be the go-to choice for a lot of people. The flexible arm is also worthy of consideration if you're using it for the back of your head or top of the head.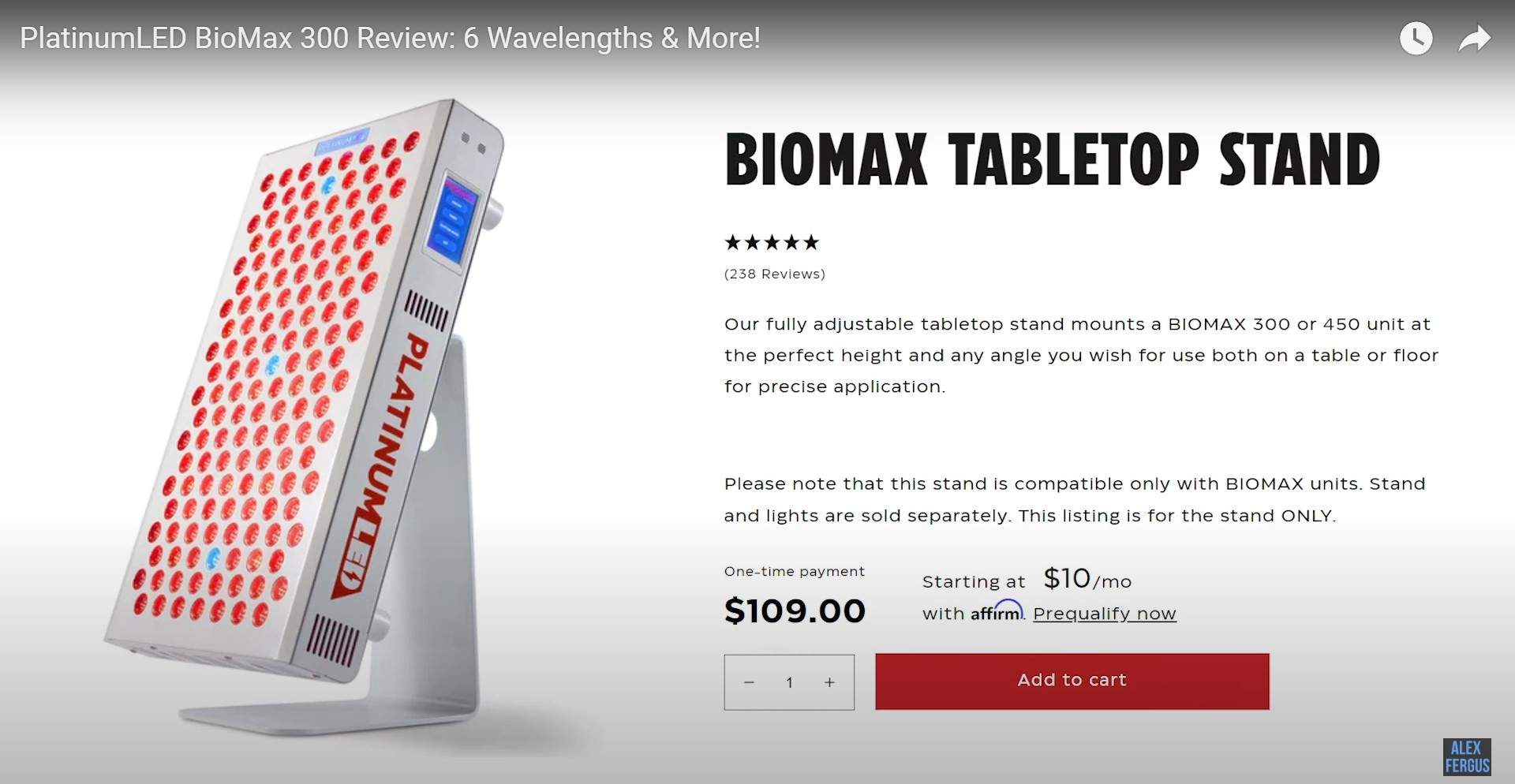 The BioMAX tabletop stand shown here is sold separately.


You can also save your money and just hang it from a wall. I like that there are six wavelengths including the blue. Though some people would prefer more of that energy going to 810nm, 830nm, or 630nm light.
We've already touched on this, but I really do need to emphasize how exceptional the control panel is. As of right now, no other panel on the market has is a control panel as nice as this one. It's simple to use. It's very responsive. The buttons are clear. It allows you to do more advanced things such as lower the light intensity to use it as a background light or change the ratios.
Users can turn the blue lights on or off using the touchscreen control panel on the side of the unit.


Maybe, you just want red light for the skin healing benefits, and you're not too worried about the deeper penetrating near infrared light for instance. You can do all of that through the control panel.
Okay, but it can't all be great, right? No and there are some opportunities for improvement.


What Would Make This Excellent Panel Even Better?
Firstly, you're paying a lot of money roughly $600, yet it doesn't come with a stand. When I did my tabletop comparison series you would have seen that a lot of panels came with stands either included or they were built into this the panel itself. However, with PlatinumLED you need to buy that stand as an optional extra.
Now, I've talked about how there's only two blue LEDs. I don't think that's too big of an issue because you're still getting a lot of power from those blue LEDs. What I don't like though is the location of these LEDs. The two blue LEDs are spaced out six inches.
That's quite a large distance. It's from about my chin to my forehead. I personally would prefer if they were a little bit closer together, so you could use them for more targeted treatment. The light does spread out, and they are high powered blue LEDs. You are still going to get pretty good coverage.
You're not actually getting peak power at 480nm it's more like your 460nm to 470nm light. Not a big difference because the benefits are still there, but it is worth mentioning.
Alex shares his perspective on all the advantages of PlatinumLED Therapy Lights BioMAX 300 as well as a few opportunities for improvement.


Overall then should you buy the BioMAX 300? Well, to be honest it's hard for me to not like this panel. Naturally, there are people that really don't want the blue light and others that really do.
The high power, the good size, the nice to use control panel make the BioMAX 300 hard to beat. Three types of buyers are going to love this panel. First up, there's the beauty users. They'll want a good looking panel that's got a variety of wavelengths: lots of red, lots of near infrared, and one that also has the blue light in there. The fact that they can choose what type of stand best suits their needs is going to be quite attractive.
Next, we have users that are pressed for time because they have a lot of things on their plate but want to squeeze in the benefits of red light therapy. Because of the crazy power and the larger size of this tabletop panel, this is going to be great for short targeted treatment sessions.
Finally, we have people who want to buy the highest quality products. Like a luxury car, it's packed full of innovative features. It's not afraid to be bold and radical. It's simple to use and to operate. Best of all, it has a ton of power.


Similar Red Light Therapy Panels You Might Be Interested In
Before you purchase one, there are three other panels you may want to consider. First up, we actually have the slightly bigger brother which is the PlatinumLED BioMAX 450. Internally, it's identical to the BioMAX 300. Except it's three inches wider, so you're getting 50 more LEDs in the BioMAX 450.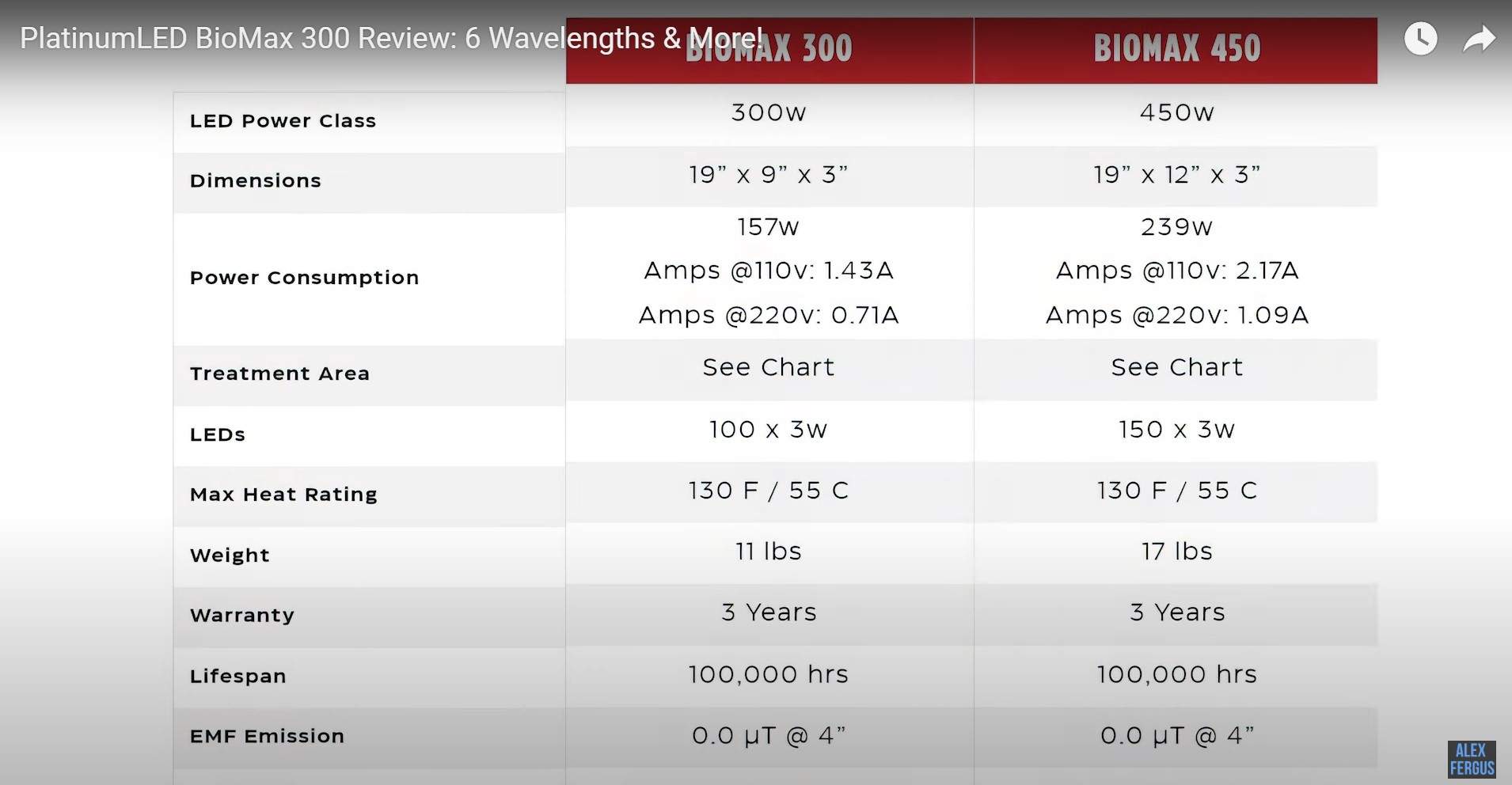 The BioMAX 450 at around $700 may be an even better value since you get 50% more therapeutic lights for a roughly 17% higher cost compared to roughly $600 for a BioMAX 300.


That means, you're getting a larger treatment area. You're going to get all the same bells and whistles, but that larger treatment area is going to make it handy if you want to target your entire chest, or your whole back, or full coverage for your legs. Best of all, it's only a hundred dollars more than this panel.
If you're buying specifically for face treatment, save the money get the BioMAX 300. But if you anticipate using the panel to treat other parts of your body, I highly recommend spending that extra money and getting a larger panel.
Next, we have the Infraredi Flex Mini. This is also a new panel. It comes with five wavelengths, but it doesn't have any blue LEDs. It has less power than the BioMAX 300, but it is also costs a little less too. The main difference is the Infraredi Flex Mini has pulsing and the BioMAX doesn't. There are some benefits to pulsing. If that's something you want to tap into then I recommend checking out my Infraredi Flex Mini Review.
Finally, we have the Mito Red MitoPRO 300. This panel is smaller. It has fewer LEDs. It has less variety of wavelengths. There's no blue light or 810nm brain healing light in the in the Mito Red. The control panel is quite basic. It has a lot less power than the BioMAX panel.
However, it also costs quite a bit less. It sells for only about $330. It does all the basics very well. So if you're on a budget, you may want to consider the Mito Red MitoPRO 300 instead. You can learn more with my Mito Red MitoPRO Review. You can check out the best budget-friendly tabletop panels video or read the article.
If you've watched all this, and you're still undecided, be sure to check out my battle of the tabletop panels video. That is where I look at the three panels I've just mentioned plus six others to determine which panel reigns supreme. You can check out my video or article "The Best Budget-Friendly Red Light Panel." I'm sure it's going to help you make an informed decision.
You can always leave a comment below, and I'll do my best to answer it. If you're finding this article helpful, I'd really appreciate it if you would share it with a like minded friend and check out more of the other articles here on my website AlexFergus.com and follow my Red Light Therapy Buyer's Guide blog.


Items Mentioned In This Article:
If You Found This Interesting, You May Also Like: