The Best Budget-Friendly Red Light Therapy Panel Review
Welcome to my review covering nine of the world's leading red light therapy tabletop panels! If you've read my reviews before, you know I have affiliate links with 8 of the 9 companies in this review. I have used my affiliate links in this article for your convenience.

I have done a lot of reviews and comparisons of the larger wall hanging body panels for red light therapy. In this video series, we will be looking at 9 of these smaller tabletop panels. As you can see, these are all different shapes and sizes.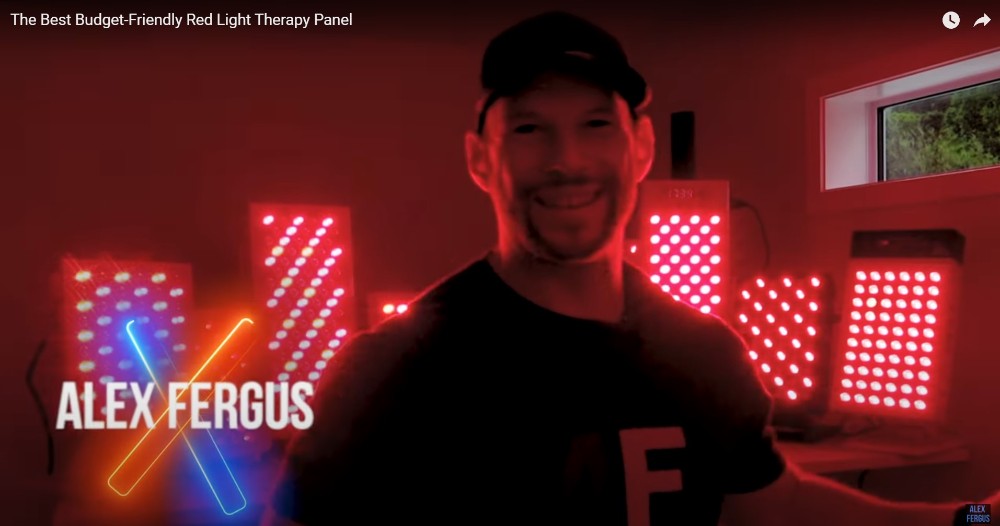 Here's a link to my YouTube video: "The Best Budget-Friendly Red Light Therapy Panel"
They're quite a sight with all that beneficial red light! Typically, tabletop panels are around 60 LEDs though we do have some larger ones here that go up to 133 LEDs. I'll be helping you find the best value panel for your budget and preferences.


An In-Depth Review of Each Tabletop Panel
I have reviewed all of these panels individually. Click the links in this list to check out my detailed reviews.
Check out these comprehensive individual review links which will be useful to you if you're wanting to purchase a light therapy panel from any of these companies. The only brand that I'm not affiliated with at the moment is Joovv. For you convenience, the hyperlinks in this article are my affiliate links which take you directly to the product pages. Be sure to use discount code ALEX which will save you some money and helps me continue to put out videos like this.

The Top 9 Contenders
We're going to run through the pros and cons of these nine panels. I'm not going to get too caught up in prices and specs and features and whatnot since that is all in the individual reviews above. We're going to start from my left and work our way around.
It's quite a unique design! We've got the brain, as they call it, on the top. You can disconnect that. It's quite an interesting arrangement that these guys use with their panels. There are 60 LEDs in here with dual chip. It's quite a unique panel.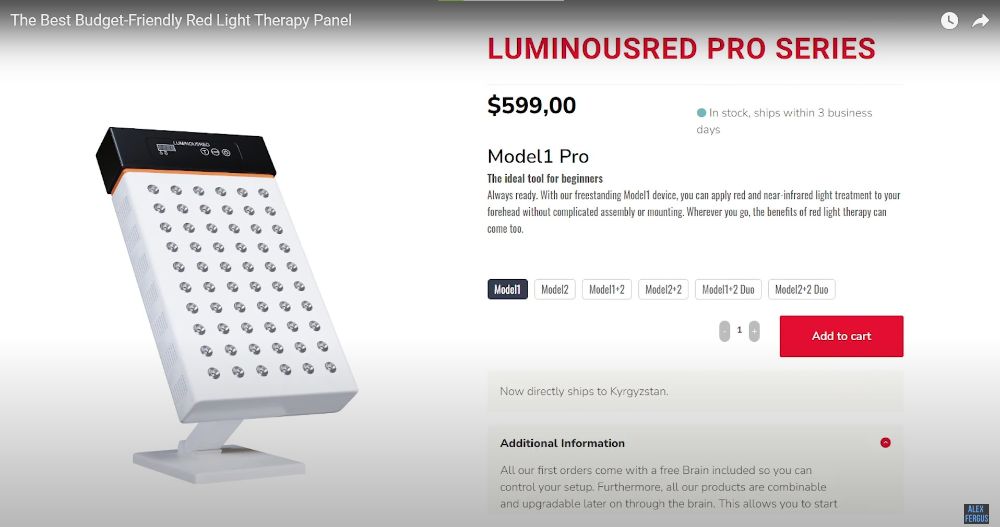 This was actually the very first tabletop panel I tested. It's quite a popular device. I predict it's going to perform well in this particular video where we look at the price and performance. It's also got 60 LEDs, and it's a dual chip as well which is pretty cool!
With this one, you can select between 10, 20, or 40 hertz which is pretty neat! It's obviously a lot larger. In fact, it's the largest panel in this review. It has 133 LEDs and a nice stand that you can do a lot of things with. So I'm sure we're going to see more of this panel in the next few tabletop series reviews.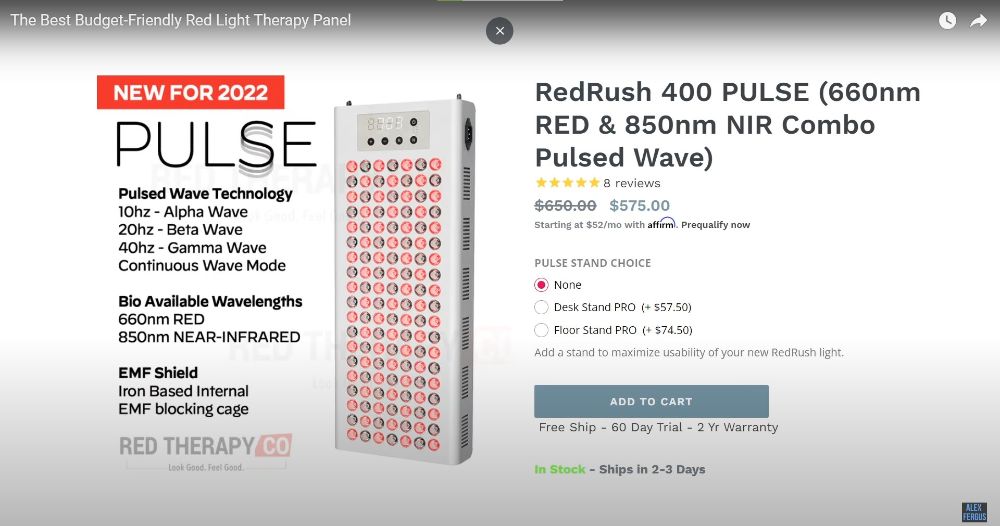 Let's take a look at the most expensive panel out of this whole lineup. In fact, it was over a thousand dollars. That's excluding shipping and taxes. So I don't think we're gonna see much of this in today's low-budget panels video. If you forget about the price, it does have some neat bells and whistles. So I'm sure we'll see more of it later on in other tabletop series reviews.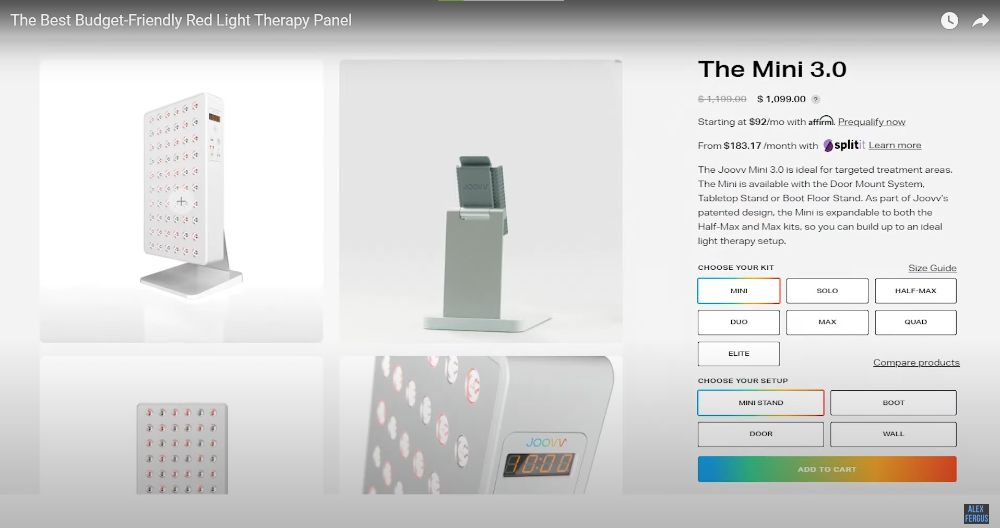 This is a new company. I also tested their mask. It's quite a simple panel with a built-in flick-stand. It only has a one-year warranty. A lot of these panels have two or even three-year warranties. Even though it is quite basic on the features front, it does come in at a really good price which is the focus of this review.
If you have watched my body panel comparison, the Mito Red MitoPRO 1500 which is the bigger brother of this one actually came out the winner! So I am expecting this panel to do rather well in the next few videos. The price is right, and it packs plenty of power.
This is the brand new third-gen BIOMAX panel. It is the second-largest panel of these 9 panels with 120 LEDs. Most of the other panels are all around 60 LEDs.
Alex Fergus reviewing 9 of the leading budget-friendly tabletop light therapy panels
It does include the blue light LEDs which is a unique feature. Plus it has the touchscreen control panel which is quite nice, and there is good power as well.
Check out this new panel from Infraredi. I just finished reviewing it not long ago. It is quite a neat product! I also reviewed the larger wall hanging one. It's a nice size, a fair price, and has good overall performance. Also has pulsing right through from zero hertz up to ten thousand. That's unique compared to all of these other panels.
Here, we have a newcomer to the scene! It's a very square panel. It's an Australian company. All of you in Australia and New Zealand will be quite keen to learn about this one.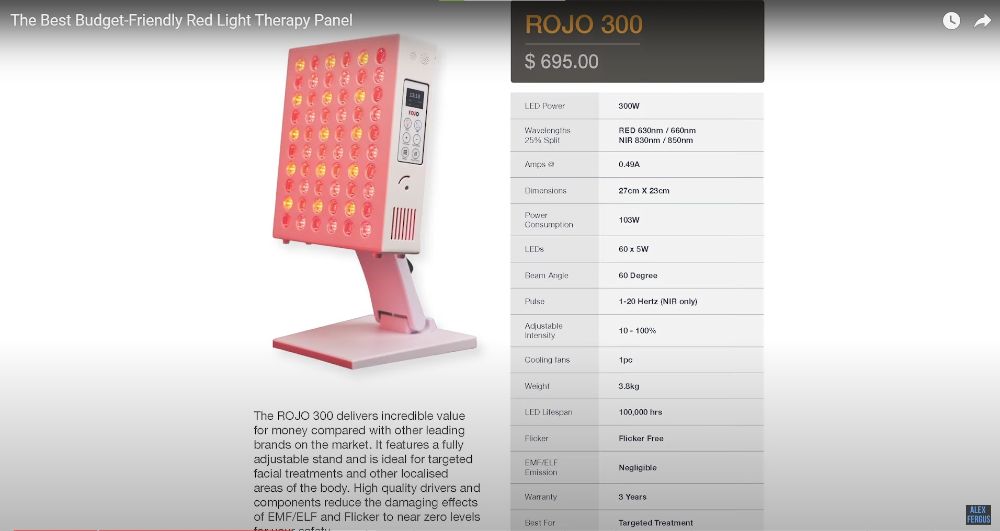 Evaluating Overall Value
Now that you know what we're working with, let's find the best panel for those on a tight budget. This is a tricky one because you don't want to simply find the cheapest panel out there. You also want to look at things like warranty, ease of use, operation, how much power it puts out, and all those other things.
There's still more of a weighting going on the price side of things. I'm going to do things a little bit differently this time around and give you my top 2 picks. Why? Well, because there are many variables that go into reasons for buying a tabletop panel.
Alex using a large hanging red light therapy panel at his home

When it comes to large wall hanging body panels, most people are all looking for the same things:
Tabletop panels are a whole other ballgame because people have diverse reasons for going with those over a full-size body panel. One of the top reasons is because they are working with a set budget. Another is that they are looking for a great value yet want some extra features. Other reviews in this tabletop series explore plenty of other reasons, but cost comparison is the focus of this article.


The Top 4 Budget-Friendly Light Therapy Winners
Time to narrow it down to the top four panels. Anything under $500 remains while everything over $500 is out as a simple way to condense it down. Let's take a closer look at the four tabletop panels that fit the bill best. These four remain because they all come in under $500 after using discount code ALEX:
Alright folks, here we have our top four panels for those on a tight budget. From these four, we're going to be narrowing it down to find the best overall winner. So let's get started!


Alex reviewing one of the 9 best budget-friendly red light therapy panels
This sells in Australian dollars because it's a company based in Australia. I converted the Australian figure to American dollars. It worked out to be $465. Their team has given me a discount code: ALEX. That will bring the price down to $440 US dollars which is pretty good and comes in under that $500 cut-off point we were talking about earlier.
Here's a bit about this panel: It has a three-year warranty plus four different wavelengths: 630, 660, 830, and 850nm. It's evenly split between them, which I like. It's quite a neat control panel. I haven't seen this type of screen before, so it's cool to see something new.
ROJO 300 control panel
You've also got pulsing in there. You can pulse from zero through to 20 Hertz, so that's noteworthy even if it's not the full spectrum that was seen in some other panels. I do like the size. It will be perfect for face treatment. It does come with a stand and also has a three-year warranty.
We've been focusing on price here, right? Even though this does come in at a good price, I need to mention the shipping. They ship to Australia and New Zealand addresses for free. You're probably thinking, "Okay, well that's cool, but how much is it going to cost to get to my door if I live in the States for instance?"
That's a good question. At the time of filming, they don't have set shipping rates for international customers. They told me they will be shipping internationally. You just have to reach out and email them and get a shipping quote. All of the sudden, that $440 US dollars may be up to $540.


Now, this is a 60-LED panel which is the same as the ROJO. It comes in the same wavelength split as the ROJO. So, you've got an equal split between 630, 660, 830, and 850 nanometer light. So it's very similar, but as you can see with 60 LEDs, it's a lot wider. The LEDs are spaced further apart. What's interesting is the power between the two is quite similar though the total wattage for this was ever so slightly higher than the ROJO.
You can see the different colors of the four different wavelengths in MitoPRO
This one retails for $350 US dollars. Discount code ALEX brings it down to $332 US dollars which is a big difference compared to the $440 over here. Shipping is where it gets really good! If you're in the States, there's free shipping with your Mito Red MitoPRO. If you're in Australia or somewhere else in the world, you're going to pay about $80. At $332 for a powerful panel from a leading company, you can't go wrong.


This one retails for $499, but they gave me a 10% discount code to share with you guys. So that brings it down to $450 which puts it at a similar price point to the ROJO 300. However, the big difference is shipping. It's free shipping for those in America. It's only $50 for shipping if you're in Aussie or somewhere else in the world. You're going to spend about five-hundred bucks in all outside the States.
If you're in America, $450 is not too bad. Now, this also has 60 LEDs. It's a different shape and size, but they only use 660 and 850nm lights which are your traditional wavelengths. Looking at the power numbers real quick, it's a little bit lower compared to the two panels that I just discussed.
Here is one with the usual 60 LEDs. What sets them apart is their dual chip technology. They only use the traditional 660 and 850nm wavelength lights.
You can see the two different light therapy wavelengths in this tabletop Hooga panel
What's crazy here is the price! This tabletop panel is $269 US dollars. It's incredible! You know what? It gets even better because they've given me a discount code. Using code ALEX will save you 5% which brings it down to $242.

Plus there's free shipping in the States. If you want to ship it internationally, you're looking at anything from about $70 to $120.

Consider this: even when you factor in overseas shipping, estimating conservatively at $120 for shipping on top of the $240, that is still only $360 US dollars! It's an exceptional price which is still cheaper than the ROJO panel which has free shipping for Australian customers.
Also, the power is actually pretty good. It's on par with the first two panels I looked at. It comes with a two-year warranty. I should mention, this is a reasonably newer company. Sure, when I first did the other review, I may be saying, "Look, they are new." Yet, that was a good six to eight months ago. I've only heard good things since then. They keep bringing out more panels. So I think we're all good on that front now.
Here's my top 4 picks for the best budget-friendly light therapy panels
All of these panels come with stands included, so that doesn't really change anything from the price and value point of view. Now, let's move into the final round!


The Top 2 Budget-Friendly Red Light Therapy Winners
I want to take these four and narrow it down further. Two of them are over $400: ROJO 300 and Dermabeam Supreme 300W. We're going to set the others aside and focus on just these two since price is our main consideration, and these are both under $400: Mito Red MitoPRO 300 and Hooga HGPRO300.
A side-by-side comparison of my top 2 choices for economical red light therapy panels
Let's do a head-to-head comparison between these two panels. Remember, we're focusing on value and price here. So we're going to keep that in mind while looking at things such as warranty, power, and what other features they have.
Just to remind you, there's a $90 price difference. The Mito Red MitoPRO 300 is $332. The Hooga HGPRO300 is $242. Both have free shipping if you're in the States. Each one costs about $80 to ship internationally. Really, it comes down to this: Are you better off spending ninety dollars more and getting the Mito Red? Or should you save that $90 and get the Hooga?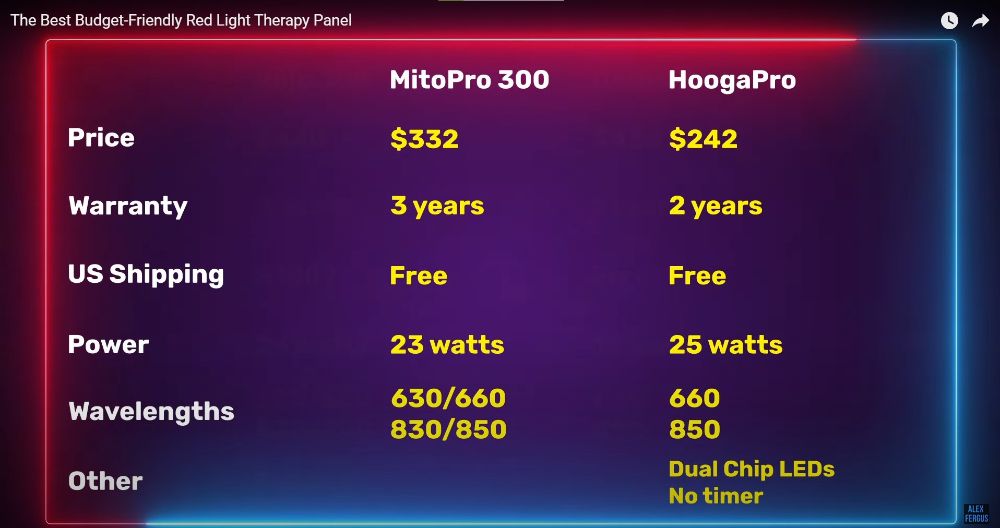 Key points about the top 2 contenders for being the most affordable light therapy panel
A Q
uick Head-to-Head Comparison
First things first though, these two have quite a lot in common:
Both are about the same size.
They come with similar stands.
They're both 60 LEDs as

well.

There's only a pound difference in weight with the Mito Red being slightly heavier.
They sound very similar as well.
The EMF is not too bad. Both panels have good EMF numbers.
Both have about the same power.
The wattage is quite similar.


Added Value
On the warranty, we finally have a difference. Mito Red has a three-year warranty. Hooga has a two-year warranty, and it has dual chip with both 660 and 850nm wavelengths.

With the Mito Red MitoPRO 300 you get all those alternative wavelengths: 630, 830, 850 and 660nm. The wavelength aspect is quite a big thing. You're paying extra for a greater variety of wavelengths which I do think is a good benefit and selling point.
Alex showcasing the 2 best tabletop panels for buyers on a budget
When it comes to the differences in power, there's really not too much between them. Looking at the raw numbers, the MitoPRO is slightly up. Comparing overall wattages, the Hooga is doing slightly better there with 25 Watts of total power output compared to 23 Watts for the MitoPRO. It's a very tight race, isn't it?
Also one other thing I want to compare is the control panel. The Mito Red MitoPRO 300 is better when it comes to operation. It has a couple of buttons on the side and a built-in timer. It's quite a simple setup, but it works well. You can alternate between red and near infrared. You can set the timer. When the timer ends, the panel turns off.
Mito Red control panel
The Hooga HGPRO300 is very simple to use. This is going back to the first-gen red light therapy products. You simply have two power switches: one for red light and the other for near infrared. There's no timer. There's no little screen, nothing like that. You just turn them on and away you go.
Hooga control panel
It really does come down to you. If you're on a really tight budget and need to save money and get the cheapest one possible, then go with the Hooga because it's a good amount of power and a nice size. It comes with a flick-stand. At $242 shipped to your door in the States, it's hard to beat!


Additional Factors for Consideration
If you've got a little bit of flexibility with your budget and you can squeak out that extra $90 then maybe go up to the MitoPRO. Here's why: You're getting an extra year added to the warranty. You're buying from a company that knows all the ins and outs of this stuff. They've produced some exceptional panels.
You're also getting a nicer control panel with that built-in timer. I'll tell you now, having used red light therapy panels for years, having that timer is a neat function. Even better than that, you're getting four wavelengths, whereas with Hooga, you're only getting two, and I'm not taking that away from Hooga because I'm sure they're also doing exceptionally well with their prices that can't be beat!
Finally, MitoPRO is probably a little bit more of a prestigious company when it comes to red light therapy.
Highlights of the advantages of MitoPRO 300


My Conclusion
So there we have it. That is my breakdown of how I determined the most budget-friendly tabletop panel. I hope you enjoyed this first article from my red light therapy tabletop video series. It is tricky to determine which one is better out of the two because of that $90 price difference. If they were neck-and-neck on the price, then of course the Mito Red would be the better panel.

What do you think?
If you're looking for the best panel for your budget, what panel are you going to go with? I'm keen to hear your thoughts. Now, I hope you can see my reasoning in deciding that these two panels fit the bill rather well in giving you a big bang for a few hundred bucks. Remember, be sure to use discount code ALEX. It will save you a little bit of cash. I do appreciate all the support and all the comments. Be sure to subscribe because I'll be doing another one of these.
In the next video, we're going to be finding the best red light therapy panel for beauty users. So be sure to subscribe and watch that. Alright, guys, I'll see you later!
If you found this interesting, you might also enjoy:
✅ The best travel red light therapy panel
✅ The best beauty red light therapy panel
✅ Full playlist for this 2021 body panel red light therapy comparison series with all episodes
✅ My Excel sheet for comparing red light therapy panels
✅ My red light therapy buyer's guide
Get FREE Updates & EXCLUSIVE Content
Join Over 30,000+ Subscribers!