LightpathLED Large Multiwave Pulsed Review: Biohacker's Red Light Therapy Dream Panel?
Welcome to my first installment of a long series of red light therapy panel reviews. In this blog post, I review the LightpathLED Large Multiwave Pulsed panel, which is one of the more popular red light therapy devices on the market today.
You can visually observe that panel here:
If you're just interested in buying a panel, click HERE and use code ALEX for 5% off.
If you're interested in this review, continue reading as I'm going to extreme lengths to give you the ins and outs of this panel.
Below I've also summarized my findings about this panel. If you don't want to think or analyze, just read my summary.
If you do like an in-depth analysis, just keep reading. After that summary section, you'll see my table of contents with all of the different sections of this review. That table of contents explains in great detail what I've tried to accomplish with this review.
(Also, if you're not in tune with red light therapy then read my guide about everything you need to know about red light therapy first for a very extensive introduction! I use some terms like "wavelength" and "nanometer" where beginners of red light therapy might not be acquainted with)
First up, here's my summary of the LightpathLED Large Multiwave Pulse panel:
LightpathLED Large Multiwave Pulse Review Summary
Pros:
Panel emits 5 different wavelengths (630nm, 660, 810, 850, 930). Most panels of the competition don't emit as many wavelengths, and, I deem it very likely that all these wavelengths have advantageous health effects.
Very good value (as measured by price per LED and price per Watt of output).
Great support: 3-year warranty and a 20-minute call with the founder for this particular panel.
There are fresh red light therapy engineering ideas integrated into the panel. The panel has been constructed from the bottom up, and the customized pulsing 1-9,999Hz and Nogier frequency options are really unique.
Cons:
The panel is complex in its use, especially if you're not tech-savvy or don't understand red light therapy well.
The wavelengths I've tested with my spectrometer don't fully align with the claimed wavelengths by LightpathLED. In LightpathLED's defence though, they're not doing worse than the competition here!
You pay $300 for the pulsing feature. If you don't need the pulsing or don't believe the science backs up that option, you can get a regular Multiwave Large panel at a much lower price.
Table Of Contents
The 4 parts of this review have been written in chronological order:
Part 1 contains my unboxing and first impressions of the panel after I received the box from LightpathLED.
In part 2 I map my experience after a couple of weeks of use. This is the quick review and I suggest you read this part if you're short on time. Skip this part if you're also reading part 3, the full review, as all of the content of part 2 returns in part 3.
Next up, in part 3 I review the product very extensively. This part also contains the most extensive testing such as with my EMF meter and spectrometer.
In part 4 I conclude my review and give you a bonus (an interview on red light therapy panel design, clinical experience, and science, with Scott Kennedy, the founder & CEO of LightpathLED.
Part 1: Panel Unboxing & First Impressions
In this section, I'll consider my first impressions of the LightPathLED Large Multiwave Pulse panel. You'll also see me unbox the panel and I'll tell you about anything remarkable I noticed during the process.
If you'd rather watch a YouTube video about my first impressions and unboxing of this panel, then watch the video below:
The Panel I Received: The LightpathLED Large Multiwave Pulsed Body Panel
As you know, I'm reviewing the Multiwave Large Pulsed version (discount code ALEX saves you).
Other red light therapy options are available from LightpathLED as well, such as a tabletop unit and a mini version. The mini version I've reviewed in my handheld red light therapy unit comparison of 2021.
I have not reviewed these units in this blog post but I will tell you more about whether one of these alternative devices is a good option for you later in this review.
Let's begin with the beginning, the arrival of the box:
Arrival Of The Box And Company Background
So, let's begin with the beginning. As you can see, a big box arrived with the LightpathLED panel included:
Contrary to many other companies, LightpathLED does ship the product in a box that clearly identifies its product. I very much like the packaging
Before using the product though, I did some research on LightpathLED.
After researching the product a bit, and their website, I came across Scott Kennedy, the founder & CEO of LightpathLED. Scott has been working in the health space for many years, including as a therapist, and has extensively used red and near-infrared with his clients.
Scott has both experience with red light therapy, which used LEDs, and "Low Level Laser Therapy" (LLLT), which uses lasers. So far, so good!
For home use, only the former is recommended, as lasers can be damaging if you use incorrect parameters. You can read more about the difference between lasers and LEDs in THIS blog post.
The Panel's Engineering First Impressions
My first impression, after looking at both the panel and the LightpathLED website, is that this panel is very different from what most of the competition offers.
In fact, the panel doesn't look anything like the standard 660nm and 850nm panels that are shipped straight from China.
(Again, I'm assuming you understand the basics of red light therapy, such as the concept of "nanometer wavelength". If not, read my guide on Everything You Need To Know About Red Light Therapy)
In fact, what I like about the panel is that it looks like it's built from the bottom up.
Many features look different from other panels on the market, such as the color of the panel, the location of the control buttons, the many different wavelengths listed on the panel (620nm, 660nm, 810nm, 850nm, 930nm).
Of these wavelengths, 620nm and 660nm are found in the red part of the spectrum, and the 810nm, 850nm, and 930nm are found in the near-infrared wavelength part.
Also, the panel uses 5W LEDs (rated), and not the 3W that are more prevalent on the market. The 5W panel draws about 2.1W of power in reality, but still, the 5W LEDs should be higher powered.
(More on those different LEDs in the interview I had with Scott Kennedy in the bonus section).
Next up, the LEDs are "dual-chip", meaning that the LED can produce multiple wavelengths. With dual-chips, you don't need separate bulbs for, say, 660nm and 850nm.
Lastly, there's an extensive pulsing option, I'll come back to that more in a later section!
So far, so good - I'm extremely impressed with the engineering of this panel so far!
Let's go through all the contents of the box I received next:
Me Unboxing The Panel Step By Step
First up, this is what the panel looks like after I open the box:
As you can see, there's a panel and manual at the top of the box. So far, everything you'd expect. The panel is packaged nicely in foam to prevent any damage during the shipping process.
Here's me with the panel after unboxing it:
The gray/silver look, whatever you want to call it, is quite nice, I haven't seen this color before in the red light therapy space!
There are 255 LEDs, split over 3 different sections. In the picture above you can see one full section of the panel, There's also a control panel at top of the panel, which is different from all of the other competitor's panels.
Next up, let's look at the backside and the sides of the panel:
The backside has four different fans. Two fans are visible in the picture and one is partially visible. On the side of the panel, the LightpathLED branding is located.
The width of the panel is quite nice.
Also, the panel has a modular design so that you can use several different panels together by joining them up. One more panel can be placed on top of this Large Multiwave Pulsed panel.
There's more in the box than just the panel though:
Different Accessories Included In The Box
Let me tell you what else is found in the box:
An instruction manual, which is different than most of the offerings out there. Why? Well, there's lots of in-depth information about pulsing in this manual. Specifically related to pulsing are the "Nogier frequencies" - I'll come back to these in a later section! At this point in the review, I didn't really look at this manual - that choice came to haunt me, stay tuned to learn why!
Eyeglasses, which are quite soft. The eyeglasses come in a nice carry case. These eyeglasses are not as good as the Joovv Solo 3.0 ones though, so far! Nothing comes close to the Joovv 3.0 eyeglasses from what I've reviewed.
A power cable, which should be supplied in a variant that works for your local electric grid variation. Simple, but necessary.
A pulley system with metal clips to connect that pulley system. The pulley system allows you to hang the panel somewhere on the wall or subsume it from another object.
One door hanging hook. This hook has never worked for me in the past because it's too small. The hook is black, in this case, unlike the color of what I usually get
A remote that allows you to control the panel by other means than the control panel on the front of the red light therapy unit.
The box contains everything you'd expect from a red light therapy panel. The only thing other companies don't include is the remote. We'll come back to that issue in a second.
Moving on to the next important topic:
Price Thoughts: Should You Include Pulsing Or Opt For A Cheaper Panel?
The LightpathLED Large Multiwave Pulsed sells for $1,174, but with discount code ALEX, you'll get 5% off. This is the only body panel with a pulsing option - the tabletop version also has a pulsing option but is smaller.
If you want a less expensive option that's certainly possible:
The normal Large Multiwave costs $924 and the Red & NIR version costs $824. The large multiwave doesn't have any pulsing but still does have all 5 wavelengths.
Next up, the Red & NIR option only emits 2 wavelengths instead of 5 (660nm and 850nm). The Red & NIR is therefore more like a classic panel such as the original Joovv Solo 1.0.
Discount code ALEX will still help you save 5% with both the Large Multiwave and the Red & NIR options! The same is true for the tabletop option and the handheld one.
My unit - the one I'm reviewing now - includes pulsing.
I will say though that the topic of red light therapy pulsing is controversial right now. Unless you're a seasoned biohacker, and love experimentation, this option might not be the best to include for you right now.
For that reason, I reckon the Large Multiwave and Red & NIR options are great too - they offer even more bang for your buck if you don't want/need a pulsing option!
Now here's where things got interesting for me:
The Control Panel And Touch Screen Are Difficult To Use For Me?
My findings using the control panel at front of the unit? These are very difficult for me to use.
The use of the control panel isn't really intuitive for me. Some of the buttons need to be pressed once, others need to be held for a few seconds to work.
There's no feedback from buttons also to feel whether a button is doing anything also. That's why I personally didn't know whether I should hold the button or push it multiple times, etc.
Eventually, I settled on just using the remote control instead of the control panel on the top of the red light therapy device.
My main issue? I didn't really read the manual of this panel!
The instruction in the manual is extremely detailed so my inability to use the control panel & touch screen in front of the panel is mostly my own mistake! Lesson? Read the manual before using the panel!
Here's also something I found during my use of the panel:
Pulsing: Why You Need To Need To Read The Instruction Manual First For This Option Too
The pulsing option is extremely customizable. You can set up pulsing frequencies yourself between 1Hz and 9,999Hz, manually, with this panel. This option is a huge benefit if you're a seasoned biohacker and want to experiment.
Also, the panel contains a few pre-programmed "Nogier frequencies" - pulsing frequencies at specific Hz levels where the French neurologist Nogier has found that they affect different systems of the body.
I haven't read too much into the pulsing topic myself so I can't comment extensively on this topic. Nevertheless, Scott has told me in a personal interview that they can be extremely helpful from a clinical perspective.
Now, here's why I wished I had read the manual before using this very advanced panel:
While using the panel at a few different pulsing frequencies, like 10Hz and 40Hz, I really got irritated. I didn't wear the eye goggles that prevent headaches and seizures using the pulsing options, so, the fault is all on me here.
Hence: be careful with the pulsing option if you haven't read the instruction manual yet!
For that reason, LightpathLED has done a good job including an instruction manual which explains exactly how to use their pulsing option on this panel. Again: read the manual before using pulsing!
Another thing I noticed with this panel is that a fair amount of heat is coming off this panel when I'm using it 30-40 centimeters away from my body (~1 foot). So, the effect of the pulsing, intuitively, seems to be very strong.
Coming back to the manual of the panel, here's what I learned as well:
Instruction Manual Lesson:
Apparently, with the Nogier frequencies, you'll have to limit treatment time to 30 seconds at the maximum, at the beginning. That approach allows you to observe what's going on with your body and adjust treatment time accordingly.
Here's an analogy to understand that principle:
If you've never exercised in the gym before, it's not really smart to do a very heavy 1 hour or 2 hour session. You won't recover from such workouts properly and you will massively increase the risk of getting injured.
Pulsing is the same: start slowly and build up from there. More is not better and doing more can frequently set your back!
Lastly, let's wrap up this unboxing and first impression section and consider a few other features that are offered by this company:
Last Remarks: Warranty, Call With Scott Kennedy, Trade-Up Possibility
Here are a few remaining issues:
There's a 3-year warranty with each panel
You get a 20-minute call with Scott Kennedy himself. Scott will instruct you who to best use the panel for your unique health situation!
You can trade-up your panel so that you can upgrade your panel. That way you can test a smaller panel, try it for a while, and if you like it, you can exchange it for a bigger panel for a bigger unit!
That's it - all you need to know about my first impressions.
Let's move on to my quick review - the experience I had after using the panel for a few weeks' time. After my quick review, I'll include a "full-review" section, where I list my experiences after very extensive testing:
Part 2: Quick Review - Read This Section If You're Short On Time
Below I've posted my quick review of the LightpathLED Large Multiwave Pulsed. If you prefer to watch my review on video, check my quick review on YouTube below:
So, I tested this panel with my spectrometer. I used my Hopoo Color 0HSP-350F - 380-1050nm Spectrometer during this process. Here's the outcome:
Spectrometer Testing: Power Output In Red & Near Infrared Range
The higher the power output of a panel, the more light will penetrate into your body. In essence, higher power output almost always entails a bigger biological effect, unless you overdo it. I explain this principle in great detail in my red light therapy guide.
For this panel, I tested both the red and near-infrared power output separately. For the red light therapy range, I got a 48 mW/cm2 power output: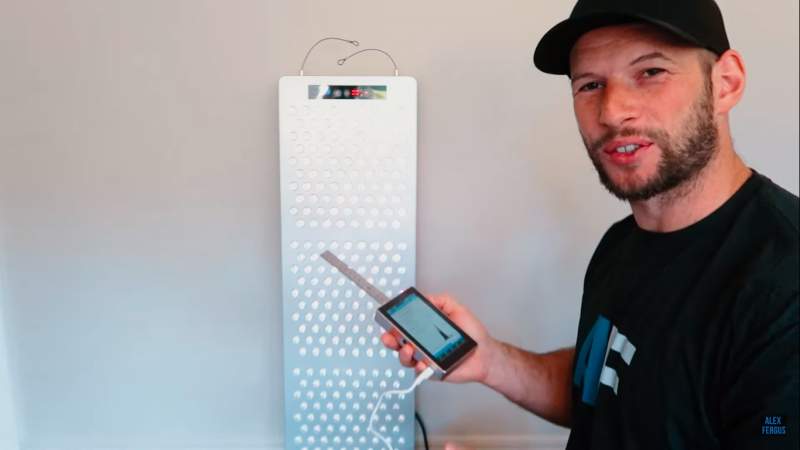 For the NIR range, I got a reading up to 50+! That reading is really good. The total reading, based upon the size of the panel, number of LEDs, came down to 120 Watts.
(I've categorized the outcomes on many different panels on THIS excel sheet - make sure to read that for more information! That excel sheet gives you tons of info on other panels in all of the same areas).
Why Pulsing Makes This Panel Different
After using this panel for a few weeks, I still think this control panel is frustrating to use. The control panel is located on the front of the panel.
Pulsing makes the panel very different and infinitely more customizable to any of the other competition. Also, you may know the panel has got 7 inbuilt Nogier frequencies. You can view my interview with Scott Kennedy and his view on the Nogier frequencies HERE.
My Likes & Dislikes After A Few Weeks
Dislike: the panel is hard to navigate, especially through the control panel on the front. The remote control works better for almost all functions.
Dislike: you pay $300 USD for the pulsing feature. For most people, that investment is unnecessary, I believe at this point. You can just get the Multiwave for $300 less and have no pusling, and have a beyond excellent panel
Like: LightpathLED has been extremely creative with their design and engineering. The panel is very different from most of the competition. The Joovv Solo 3.0 is the same, in that regard.
Like: The pulsing technology can be a huge game-changer, and, adds customizability for many different goals
Like: The after-sales support is second to none. You not only get a 3-year warranty and a 20-minute call with the founder & CEO after buying a pulsed panel! Almost no other company offers this feature - also make sure to buy a panel to still benefit from this option! You can also upgrade your panel for a bigger panel, etcetera. So overall after-sale features are pretty amazing!
Part 3: Full In-Depth Review Of The LightpathLED Large Multiwave Pulsed
So, in this section I'll explain my original title, equating this panel with the "Biohacker's Red Light Therapy Dream Panel".
How valid is that conclusion?
Let's find out...
First of all, this is by far my longest review of any red light therapy panel to date. I've posted an up to 50+ minute review on YouTube which can be watched below. I will warn you that my review is extremely in-depth, but, I also know that many of my readers and followers love me for that very reason:
I'll go through the arguments I made in the video review about the panel one by one though, this blog post. First up, I've compared this red light therapy unit to all of the competitors, but I've also tested the panel in the areas of EMF exposure, power output, wavelengths, potential noise pollution, etc!
Shipping Costs To Different Parts Of The World
You may remember that the Large Multiwave Pulsed unit costs $1,174 USD, and with discount code ALEX you'll save 5%. Discounted price is $1,155 USD (all prices below are in USD as well!)
Shipping to different parts of the world varies a lot though. US shipping is free. Shipping to Australia, it's $100 - 500. UK is $25 - 285, depending on your location! Canada? $25 - 100.
The only way to find out how much shipping costs will be for you is to go to the LightpathLED website, put a panel in your cart, and calculate the shipping costs to your address.
It's impossible for me to give a comprehensive account of how much shipping costs will be to all areas of this planet as it would take up a lot of space. Also, keep in mind that some countries have import duties as well when you're ordering a panel!
Next up, let's consider some of the basics of this panel:
Panel Size, Using The Accessories & Main Features
The panel is 38 inches high, 12 inches wide, and 3 inches deep. These numbers matter if you want to stack multiple panels together vertically and/or horizontally!
The weight of the panel is 26 pounds, which equates to around 12 kilograms. If you're older or don't have the ability to move a panel easily, that factor could weigh into the equation. Bigger panels are simply harder to move around for different body part treatments or around the house.
As stated before, you can only get this panel in silver! The same is true for the control panel on the front, the added door hanging kit, pulley system, etcetera. No need to go through these options again...
The setup is also straightforward, you simply insert the power cable into the unit and the electric grid. Then, you hit the power button and the panel starts up. Easy peasy.
One downside is the 57-inch power cable that's attached. If you hang the panel up high, it's going to be problematic and you'll need an extension cord. I would have preferred a 2-3 meter cable, personally.
The best part?
There are 1-9,999Hz pulsing options and customizability for biohackers. The accompanying remote works best for me, not the control panel. Let's consider that pulsing feature in more detail:
The Pulsing Feature & Operating This Panel
The pulsing feature, through the red light, is not automatically turned on. The reason is that if you get such high doses of visible red light through your eyes immediately, the risk of seizures or migraines dramatically goes up.
The best way to activate that option is through the remote control - without the health risks!
In other words, LightpathLED has thus deactivated the red pulsing as a standard setting but you can access it.
Overall, the remote control is best to quicky lets the panel respond. I love that option.
When you use the control panel, it takes longer for the panel to respond to your choices. Hence, I don't use the control panel much. For instance, you have to hold the power button to turn the panel on for several seconds, which is why the remote is superior for me personally.
Scott from LightpathLED is aware that the control panel is complicated to set your sessions up, and he will simplify the option with the next iterations of the panel.
The ease of use of this panel is a bit of a bummer for me. Having said that, I completely understand that the option to set up many different light treatment parameters can be a biohacker's dream!
So, for advanced users, this panel may have a huge upside instead of a downside because of the customizability. You can also selectively active red or near-infrared, or both, which is a benefit - with and without pulsing. Also, you've got a timer to set up your panel - I mostly use that remote because it's easier to use.
Lastly, you cannot see precisely whether the near-infrared (NIR) is running. I'd like to have that ability to see whether the NIR is activated on the panel.
Below is a picture of the remote included in the package:
Basics: Number Of LEDs, Beam Angle & More.
As stated before, there are 85 LEDs in each of the 3 sections, bringing the total to 255. All of these 5W draw 2.1W.
Scott Kennedy from LightpathLED states in the interview I did with him that 3W LEDs only use 1-2W of power.
Also, the dual-chip LEDs means that each LED has two diodes/chips associated with them. That dual-chip function allows you to select either red or NIR or both together.
Only the Joovv Go 2.0 has this function right now, as far as I know.
Next up, the panel has a 30-degree beam angle. As a result, the focus of the light is more narrow on the body. In other words, you'll get a higher dose on a smaller treatment area.
I've tested the output of this panel extensively with my spectrometer. Again this is the Hopoo Color 0HSP-350F - 380-1050nm Spectrometer. You can view that spectrometer below:
So let's go into that testing:
Peak Power Output Measured In mW/cm2
In my full review, I tested the power output one more time to make sure my numbers were correct. Below you can see me testing the power output with my spectrometer. I move across the LEDs with a spectrometer that's attached to a 6-inch ruler: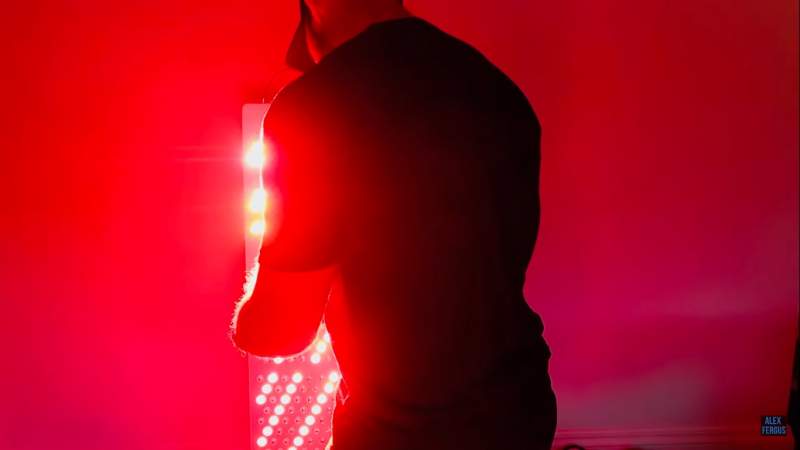 For red light, the outcome is 46 mW/cm2: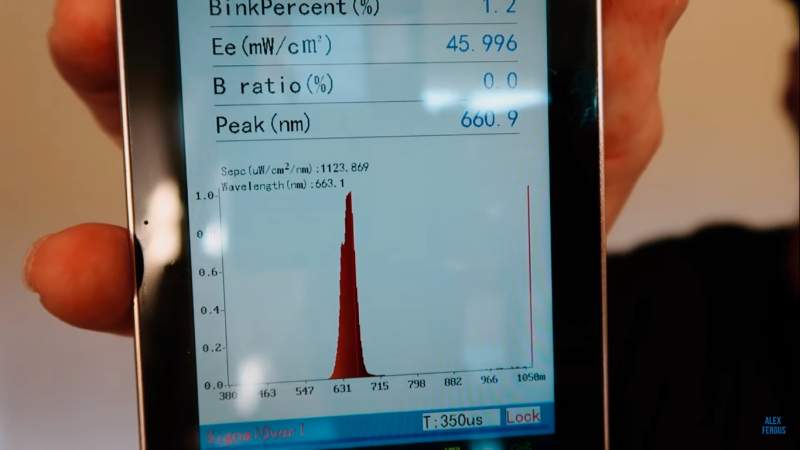 For near-infrared (NIR), the outcome is 50 mW/cm2:
Combined, the panel thus emits 96 mW/cm2, which is very high!
Then, I tried to estimate the total power output of the entire panel:
Estimated Total Power Output Of This Panel
For this measurement, I acquired 9 data points (spectrometer measurements) at 9 different places of the panel. I then used the total area of the panel to get an estimate of the total output for this panel.
To calculate that number, the 9 readings are multiplied by the area of the panel.
Six of these readings are taken around the perimeter of the panel. The other three readings are taken in the center, in the middle, i.e., vertically across the panel.
The average reading I got was 58.7 mW/cm2 for all 9 spots. By multiplying the irradiance and the size of the panel I come to a total power output is 120.3 Watts.
That reading is very high, actually, and among the highest of all panels.
One caveat is that this methodology is far from a perfect science to calculate the total power output. I do think this estimated total power output is one of the best methodologies to calculate how much light a panel is putting out though...
Wattage Draw From The Electric Grid
Next up, I've simply measured the amount of energy the panel draws from the electric grid. You can test that power draw by putting a meter in between the power cable of the panel and the electric grid:
Here's the outcome of the power draw:
Unit activated, with just power going to the fans and control panel, lost energy as heat, etcetera: ~19W
With red light only activated: ~386W
With near-infrared only activated: ~405W
With both red and near-infrared: ~766W
The reason I include this test is that I want to get an actual reading of how much power is consumed.
When a company states their panel is rated "1500W" or "900W", it doesn't usually precisely reflect how much power a panel is drawing from the electric grid. This methodology should provide a far more precise methodology for estimating power consumption.
Of course, taking more electricity from the electric grid is usually an indicator that a panel is more powerful. It's very hard if not impossible to generate much light if your panel is drawing only 50W of energy from the grid compared to one that draws 500W.
A panel that draws 766W, such as the Large Multiwave Pulse (code ALEX saves 5% with THIS link), completely changes the power output equation.
Next up, there's my deep dive into the pulsing function:
My Viewpoint Of The Pulsing Function
The 1-9,999Hz pulsing option that you can modify, as well as the Nogier frequencies, are very, very interesting.
The Nogier frequencies are specific Hz ranges that affect different systems of the body. The Nogier frequencies not only work in humans but also animals. The published science on Nogier is not that extensive, though, although Scott Kennedy has tons of experience testing and experimenting with them.
Scott also has extensive results from using the Nogier frequencies.
As a biohacker, I personally love that the Nogier feature and the customized pulsing is here. These pulsing options mean that I can experiment far more extensively compared to when these options weren't available.
Also, some of the brain research with the Vielight, for instance, shows that pulsing can have beneficial effects. Read my Vielight review HERE and a write-up about red light therapy and the brain HERE.
As I've stated before, however, you can exclude the pulsing/Nogier option and save several hundred USD if you're poor on money right now.
My view after using the pulsing more extensively?
I don't know yet whether I get any benefits from the pulsing, even though I've tested the option for a few weeks now. However, I'm not the perfect person to test this pulsing option either because I don't have any health issues or injuries at the moment, and don't expect them in the near future either if you know what I mean.
I've also not trained in the gym lately and haven't worn any wearables like the Biostrap, so it's hard to tell whether there's any effect.
Nevertheless, the freedom of this ability to experiment with different pulsing frequencies can be a huge biohacking advantage over time.
For instance, some new data might come out in a study soon showing that 350Hz for 5 minutes at a certain distance from the brain improves cognitive function such as memory. In such a case, you can experiment with that and use that option to your advantage. If you choose a panel without pulsing, you cannot experiment or test 350Hz or any other frequency.
Also, with regards to lower-quality scientific publications, such as case studies and anecdotal evidence, there is support for pulsing functions.
And, animal studies and personal experience of vets working with animals, where placebo effects don't play a role, are also quite positive.
Using the pulsing function is a bit complicated though - which is the only downside here.
Also, as a warning, I'll have to tell you to make sure to use your goggles with the pulsing function, especially with the red light function and on pulsing frequencies below 80Hz.
Pulsing below 80Hz is visible to the human eye and more likely to induce headaches or epileptic attacks, and other side-effects.
Moreover, Scott Kenney of LightpathLED also thinks the near-infrared is the most important one to use for pulsing as it penetrates deepest. Hence, you don't necessarily need to use the red pulsing option!
Nogier Frequencies, Instruction Manual, & Free Call
If you need help implementing the Nogier frequencies on your panel, use the manual. The manual gives you an almost foolproof method to use these Nogier frequencies.
Also, only if you choose for the Large Multiwave Pulsing panel will you get a 20-minute phone call with Scott Kennedy from LightpathLED. During that call, Scott will help you apply the red light therapy sessions with your panel as effectively as possible for your unique health situation.
Whether you're injured or have health condition or are an athlete who wants quicker recovery, the 20-minute call will come in quite handy to optimize your sessions.
Here are some examples:
40 Hz is great for general health and also if you've got brain issues
147 Hz is good for normalizing inflammation
Scott can help you find Hz frequencies that work well for your situation
Again, whatever you do with the pulsing, start slow!
Once more, if you use pulsing, short session of just 1 or 2 minutes are great to begin with. Scott will also explain to you how to build up your exposure during these phone calls.
Never start your journey with a 20-minute pulsing session...
Next up, I've tested all the wavelengths of the panel to see whether they align with the claims of the company:
Spectrometer Tested Wavelengths
I've talked about the claimed wavelengths of this panel before: they are 620nm, 660nm, 810nm, 850nm, 930nm.
If you're short on cash, you can also buy the regular LightpathLED large Red & NIR, without the "multiwave" function. In that case, you'll only get the 660nm and 850nm wavelengths but save money (code ALEX also saves!)
Within all panels, 60% of the power is targeted at the NIR part of the spectrum and 40% at the red light of the spectrum. Scott explains in his interview why he makes that choice.
As you can see in the pictures below, here are the peaks of all the wavelengths, as measured with the spectrometer. First up, the NIR (you can read the outcome on top of each picture!):
As you can see, the first peak is around 809.4nm, which almost perfectly aligns with 810nm. The next peak is found at 853.1nm:
And, the last NIR wavelength peaks here:
So, the peak is slightly removed from the claimed 930nm peak on the website, at 942nm instead of 930.
Of course, as the wavelengths aren't emitted in very sharp peaks as is the case with lasers, you're still getting tons of energy around the peaks. So, with the 810nm wavelength peak, you're getting some energy all the way from ~720nm to ~830nm.
Next up, there are the peaks in the red light part of the spectrum:
So, as you can see, the 620nm wavelength peak doesn't perfectly align on the spectrometer. In fact, the peak is closer to the 635nm wavelength, and, the power output emitted by the LightpathLED panel at around the 620nm wavelength peak is about half of that around 635nm.
Next up, I've tested for the claimed 660nm wavelength peak:
As you can see, with a less than 2nm difference, the 660nm wavelength perfectly aligns! All good!
In my full video review, I did a few more readings, and the part of the spectrum that should peak around 620 almost aligned with 640nm there.
Conclusion? Except for the 620nm, all of the other wavelengths align reasonably well with what is claimed.
Lastly, I tested the EMF levels of this panel for potential sound and Electro-Magnetic Frequencies (EMF) safety issues:
Safety: EMF Levels & Noise Pollution
Here I tested the radio wave (micro waves included), magnetic fields, and electric fields. I used my Cornet EMF meter for the task. Here you can see that Cornet EMF meter:
Radio waves were non-existent when testing the panel, except when I used the remote control. Exposure was negligible, fortunately.
Next up, magnetic fields had the following outcome - using the 6-inch distance once again:
Outcome? Exposure is reasonably low, at 0.2 micro Tesla. That exposure falls squarely within the safety levels of the building biology standards.
If you get closer to the panel the exposure goes up to 0.7 micro Tesla. The exposure is not quite concerning but could be better, if I'm honest.
Then, lastly, electric fields - first, with the lights turned off:
Readings averaged between 8-15 Volts per meter. After turning the panel on I got almost the same reading, an average of 10 Volts per meter or so, after an initial peak for a second or so.
All good!
Sound measurements were fine too, they never went higher than 50dB near the panel.
Overall, both EMF levels and sound pollution were non-existent or very low.
Those are all the measurements I did! Let's now look at the value that I calculate for each panel, using the measurements I took before:
Value Assessment: Price Per LED & Price Per Watt
For this section, I won't have to measure anything new. Instead, I calculate the price per LED, using discount code ALEX.
For the LightpathLED Large Multiwave Pulsed, that price per LED comes down to $1,115 divided by 500, which comes down to $4.37 per LED. That price is quite good!
Next up, we've got the price per Watt.
For this measurement, I used the estimated total power output of 120.3 Watts. Using the $1,115 price, that comes down to $9.26 per Watt of total power output.
Also, if you get a "Large Red & NIR" panel instead of the "Large Multiwave Pulse" panel, the price will come down up to $400, which makes a huge difference. Also, the "Large Multiwave" without the pulsing function costs $924 with discount code ALEX, which is $200 less.
In that case, price per LED and price per Watt come down dramatically. You can get both panel options HERE.
Next up, remember that you can trade in smaller panels for bigger ones with LightpathLED. So if get a regular Large Multiwave from the beginning, you can trade it in for an upgraded function later, i.e., the one with pulsing.
Also, if you want the pulsing, for brain health, for instance, or spot treatment, you can also get the tabletop version with pulsing for a much lower price. That tabletop has 94 LEDs and costs $774 USD. Yet, for an extra $300-400, you can get the large body panel, so the tabletop option is probably not the best option in most cases, in my opinion.
IN some cases, however, the tabletop option may be great. For instance, you might be older and unable to stand for 10 minutes for a session. In that case, the tabletop option is perfect to get your sessions in. Or, alternatively, you might only care about brain health and exposure. The same conclusion is true in that case.
Moving on to the last topic, comparing the LightpathLED options to the competition:
LightpathLED Compared To Other Brands
Compared to the Mito Pro 1500, both panels have 5W LEDs and very high power output. The Mito Pro and Large Multiwave Pulsed both have multiple wavelengths, but, the latter has more LEDs and comes in at a lower price point.
But, the Mito Pro doesn't have the pulsing option.
Next up, there's the Platinum LED BioMAX. I've reviewed that panel in my 2019 review series and it came out on top, actually. From a power output point of view and multiple wavelengths, both panels have big similarities. Safety features are similar too, such as EMF exposure.
The Platinum LED is somewhat cheaper, although, it doesn't come with pulsing.
(More comparisons coming soon!)
Lastly, the Joovv Solo 3.0 also offers a pulsing feature, although, it's severely limited to the LightpathLED option, as the Joovv only works on 10 Hz and on the NIR only. Also, I yet have to carry out a full review of the Joovv Solo 3.0, as well as the new BioMAX, which should be coming out soon.
One downside of the Joovv Solo 3.0 is that it's very expensive compared to the LightpathLED, and also has fewer LEDs. The Joovv only has around 150 LEDs or so.
Also, I will be reviewing all of these panels soon so stay tuned!
Note: to get a better idea of a comparison between all these units, be sure to follow my red light therapy buyer's guide and to bookmark the Excel sheet of all the panels I've tested in this market lately!
Lastly, let's conclude:
Part 4: Final Thoughts - Is The LightpathLED Large Multiwave Pulsed Really A Biohacker's Dream Panel?
So after testing this panel for weeks here are my final thought.
(Most of this is a repetition of what I've already said in the summary section at the very beginning! Here, instead, I've written my thoughts out)
Let's start with the good:
The panel is very different from the competition, it has great power output, low EMF readings, offers high value for your $USD, the pulsing feature is extremely attractive if you're an advanced biohacker, and the panel allows for a modular setup.
What's more, there's great after-sales support with Scott and you trade out a smaller panel for a bigger upgrade. You can also get a non-pulsing panel that's much cheaper and offers even more value (price per LED and price per Watt!)
Lastly, the 3-year warranty is great too...
The downsides?
The panel is quite confusing to use, especially if you're not really great with tech or a seasoned biohacker.
If you want a LightpathLED Large Multiwave Pulsed then the $1,000+ investment is quite a lot of money for many people, even with discount code ALEX.
Overall, I find the value proposition of LightpathLED great and I think many of my followers will choose this option in the next year or more!
Stay tuned for many other reviews as well, such as for the new PlatinumLED BioMAX panels, the Joovv Solo 3.0, the Mito Red MIto Pro 1500, Red Light Rising Advantage 1500, and much more!
I hope you enjoyed my review! Lastly, there's one thing I still have to offer you:
Bonus: Learn More? Watch My Scott Kennedy Interview
Lastly, I recommend watching the interview I had with Scott Kennedy below, if you want to learn more about the scientific background of red light therapy and this specific panel:
Items Mentioned
Found This Post on Red Light Therapy Interesting? Then You Might Like:
This blog post was written by Alex Fergus. Alex is a ISSN Sports Nutrition Specialist, Fitness Professional and certified Superhuman Coach who continues to expand his knowledge base and help people across the world with their health and wellness. Alex is recognized as the National Record Holder in Powerlifting and Indoor Rowing and has earned the title of the Australian National Natural Bodybuilding Champion. Having worked as a health coach and personal trainer for over a decade, Alex now researches all things health and wellness and shares his findings on this blog. Learn more about Alex's Credentials HERE.
Get FREE Updates & EXCLUSIVE Content
Join Over 30,000+ Subscribers!